UPDATED For 2018!
Your 2018 March Madness Bracket template is here! Whether you are in charge of running your office pool, looking for a bracket to plan your bets, or just a really organized fan of college basketball, we've put together an easy to use spreadsheet for tracking this year's tournament in Excel or Google Sheets.
There are tons of downloadable March Madness brackets out there, so if you've come to us to download a copy, it's probably because you know that our sheets will contain cool features that others won't (we're spreadsheet addicts).
If, like us, you're interested in spreadsheets, keep reading below the links! If you just want to download your 2018 March Madness template, just jump to the bottom of the post.
We've added both an Excel and Google Sheets template version for the 2018 Women's NCAA Division 1 Basketball Championship. Thanks to Angel for the request! 
What we Added
Okay, okay, we actually didn't add anything too exciting into the March Madness bracket spreadsheet other than some simple Data Validation. The idea came to us pretty late, so we were more focused on getting the template out for the beginning of the tournament.
The template has a section at the bottom for the "First Four" games which will be starting tomorrow! If you look at the main bracket, you'll see the placeholders such as "VAN / WICH" showing for the slots that are still undetermined. If you're betting on those slots don't worry, selecting your choice at the bottom will automatically update that game for the second round (After Vanderbilt Wins!).
Don't worry, if you only need the template for the 2nd round, it works great for that too, just ignore (or even delete) the first round section at the bottom.
As for the rest of the bracket, you can simply select from a dropdown out of the two teams that you had selected in the previous round. We thought this was a pretty basic idea, but we hadn't seen it in any of the other March Madness spreadsheet templates we had looked at, so we figured we'd make one.  And it works just as you'd expect.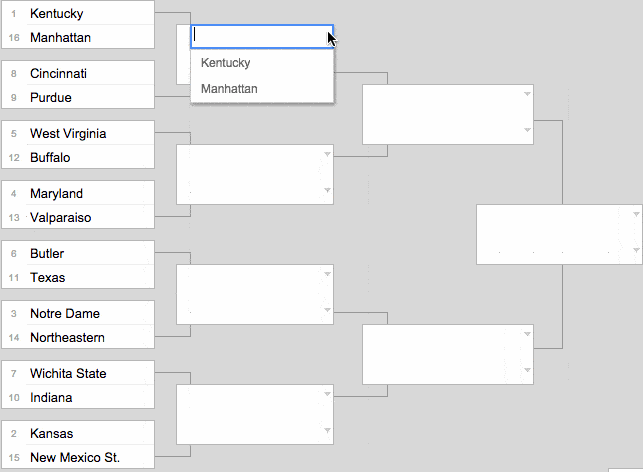 Saving your March Madness Picks
Once you (or your friends) have locked in that perfect bracket and need to send it off to the pool organizer, the best thing to do is either print it or export it as PDF. This ensures that your file isn't easily or accidentally edited and you can claim your undisputed victory prize.
To save the file as a PDF in Google Sheets, simply go to the File menu and select Download as, and then choose the .pdf option.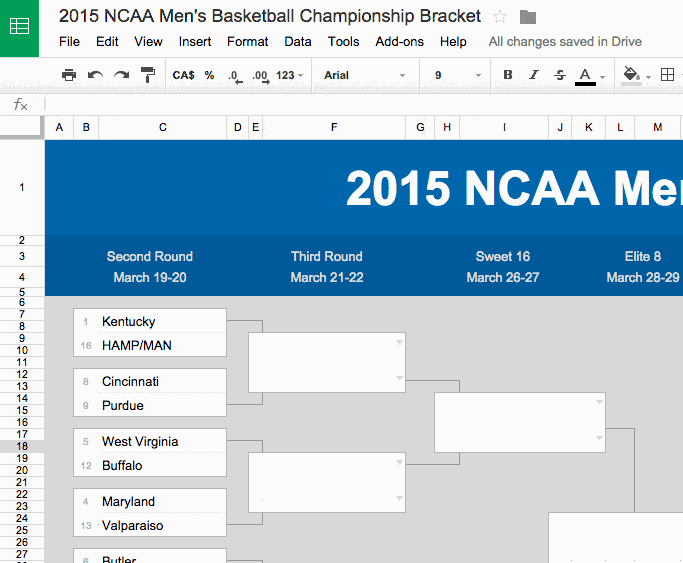 For the best results, make sure you turn off gridlines and away you go!
Thanks and Good luck with your NCAA bracket! If you need some help with your picks, check out the post from FiveThrityEight on some data-backed March Madness predictions.
Updates
---
Feb 21, 2018
I've cleared both the Microsoft Excel template and the Google Sheets version for both the Men's and Woman's Tournament. We'll update it come Selection Sunday
I've updated the dates of the tourney this  year, though I think the April 2nd dates from the official site may be wrong
Join the 17524 Basketball Fans
that are already using our brackets!
Download the Men's 2018 March Madness Bracket!
Download the Women's 2018 March Madness Bracket!